Every car needs a strong set of tires. Without them, your car wouldn't be able to move. Palm Coast Ford provides tire services because we know how important they are to your car's performance and safety. Our service center is here to assist drivers across Palm Coast, Bunnell, and Flagler County with tire maintenance, and will do everything we can to keep your treads strong and durable. 
Types of Tire Services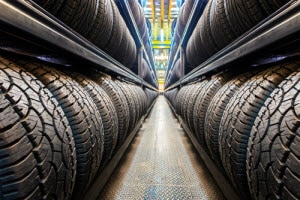 Like your vehicle's transmission, engine, and suspension, tires accumulate wear and tear. Routine maintenance prevents wear and tear from building up to dangerous levels and keeps your tires strong. Sturdy, robust tires help to ensure your car runs safely, and Palm Coast is here to help you keep your wheels turning. We provide a wide variety of tire services, including:
Tire Rotations - Ensure your treads wear evenly by moving your tires from front to back, left to right, and diagonally. This extends the life of your tires and helps to optimize traction.
Tire Pressure Checks - Not sure if your tires need air? Palm Coast Ford will check for you. We'll even refill your tires to keep them at the correct pressure level.
Wheel Alignments - After driving over a big pothole, the wheels of your car can get thrown out of alignment. This causes your treads to wear unevenly, reducing traction on slick surfaces.  Palm Coast Ford will fix your wheels for you to prevent tires from wearing prematurely.
Tire Replacements - Even if you're vigilant about maintaining your tires, it's inevitable that they'll need to be replaced at some point. The Parts and Service Center at Palm Coast Ford can fit your vehicle with tires matching its exact specifications.
Trusted Tire Services in Palm Coast
When your tires need to be rotated, replaced, or realigned, you can turn to the Service Center at Palm Coast Ford for quick, convenient tire services. Drivers across Palm Coast, Bunnell, and Flagler County routinely turn to us when their treads need attention, so schedule an appointment with Palm Coast Ford the next time you believe your tires require maintenance.
Why Tire Pressure Matters